Everything is beginning to calm down and sort itself out in my life, which is wonderful and also means that I may just have some time to write my blog again! Fingers crossed! There is a lot I could write about in this post, but I am going to focus on a nature walk I took recently – the first in ages and it was wonderful!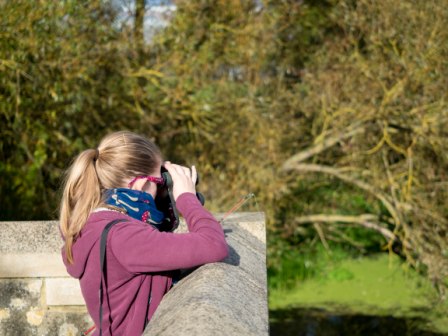 A friend and I decided to use a weekend day to visit Irthlingborough Lakes and Meadows in Northamptonshire. This was a new nature reserve for me so I didn't know what to expect, but it is on his doorstep so he knows it quite well. However, he isn't wildlife-mad/obsessed like myself so it turned out to be a learning experience for him too. Not to mention that he hasn't seen me in wildlife-mad/obsessed mode before, so that also turned out to be a learning experience for him! (Yes, I do actually associate with people outside the world of natural history!)
I managed to find quite a few plump and juicy blackberries to snack on, although we are beginning to near the end of their season sadly. We even found a dragonfly – which I believe to be a Common Darter (Sympetrum striolatum) though I am completely out of practice, so do let me know if I'm wrong! We watched it for a minute or two, and I tried to get a decent photo of it. I think I did quite well, though not an amazing photo. It then flew off and we didn't see where it landed, until we went to walk on again at which point my friend noticed that it had landed on my hair! It actually stayed there for about 5 minutes or so, and only flew off when I went to carry on walking. On an unrelated note – how fantastic does my plait look in the photos?!
Further along the way, we were intrigued by the sight of a lady crouching down in the grass by the side of the path. What could she be up to? Something nefarious or was she, like I usually do, looking at something interesting? It turned out that she was photographing Shaggy Ink Caps (Coprinus comatus), a lovely fungus that it is one of the easier species to identify. Apparently it is edible and quite tasty, but before the black ink begins to appear. I wouldn't take my word for it though, as I don't know much about foraging for mushrooms!
What with there being lakes at this nature reserve, there were a fair few birds about – Grey Heron (Ardea cinerea), Lapwing (Vanellus vanellus), Black-headed Gull (Chroicocephalus ridibundus), Mallard (Anas platyrhynchos), etc etc. I had my duck identification skills tested, after quite a few months of not even attempting any duck ID. Racking my brains, I managed to remember that they were Wigeon (Anas penelope) and Teal (Anas crecca). It shouldn't have been quite so difficult to remember, but I am very out of practice with ducks! Must work harder!
We almost passed by this female Blackbird (Turdus merula) without noticing her, she was sitting ever so still and quietly in the Hawthorn (Crataegus monogyna) tree. A little later, we spotted another Blackbird, this time a male who was not so still but instead was enjoying some haw berries.
Our last find was a good one – a grasshopper! I had wondered if it would be too late in the year or too chilly to find any Orthoptera, but I was not to be disappointed it seems. With the side keels of the pronotum being so straight and almost parallel, my guess would be Lesser Marsh Grasshopper (Chorthippus albomarginatus)?
All in all, a rather nice nature walk. I bet it is even better in late spring and summer when I am sure it is buzzing with even more Orthoptera, and filled with exciting wildflowers and other insects!
In other news, I have left National Trust's Wimpole Estate (though not before finding a rare fungus!), moved house, and have exciting plans for the near future. Watch this space! For now, a few tweets of what else has been happening recently:
Big fan of the wildlife-themed cushions at @johnlewisretail pic.twitter.com/ebB31SKWzS

— Megan Shersby (@MeganShersby) October 26, 2016
Kudos to @StephLandymore & @KHolmie for setting up Ldn Nature Network, & 1st of hopefully many meet-ups! Looks like less ppl than there are pic.twitter.com/VzxVeIkDte

— Megan Shersby (@MeganShersby) October 20, 2016
For those wondering how Mowgli is managing with the move, whilst she spends time hiding beneath bed, she has also been playing & sunbathing pic.twitter.com/H3KQ3kBWBk

— Megan Shersby (@MeganShersby) October 18, 2016
Could this be Rhodotus palmatus, Wrinkled Peach fungus? #fungi #woodland pic.twitter.com/i92sxnnC8N

— Megan Shersby (@MeganShersby) October 14, 2016
https://meganshersby.com/wp-content/uploads/2016/10/pa222691.jpg
336
448
mgshersby
http://meganshersby.com/wp-content/uploads/2016/11/weblogo-300x138.png
mgshersby
2016-10-27 15:06:12
2017-03-15 17:26:26
Making friends with dragons