This week saw my first office day at the Wildlife Trust BCN as a Volunteer Communications Officer. Alongside writing a piece for their blog, assisting with a competition and learning more about how the communications team functions, there was a particular aspect to the day that has since become very memorable. The lunch break.
Now I didn't have a very exciting selection of food for my lunch, but it was eaten outside in the beautifully warm spring sunshine. Brimstone butterflies (Gonepteryx rhamni) flitted through the garden, bees worked hard to collect pollen and a Chiffchaff (Phylloscopus collybita) called from a nearby tree. Being the keen naturalist that I am, I was mentally noting down the different species about – Goldfinch (Carduelis carduelis), Blue Tit (Cyanistes caeruleus), Red-tailed and Early Bumblebees (Bombus lapidarius and B.pratorum), Rosemary Beetle (Chrysolina americana), 7-spot Ladybird (Coccinella 7-punctata) and so on, all of which would be put into my wildlife records notebook. Further to being a naturalist, I am a pan-species lister which means that I am extra excited if I see something new to me. And during this lunch break, I did just that.
I was watching and photographing some bees on the rosemary (NB: I need some for my garden, it is brilliant for pollinators!) when I noticed another insect nearby. With its wicked looking markings, I thought that it was probably an ichneumon wasp species (Ichneumonidae). I snapped a few photos, taking care to get it from different angles, before it wandered off into the undergrowth. I decided against potting it, I didn't think I would be able to identify myself and figured it would be better off in the wild.
So that was my lunch break, all in all, the type of lunch break I love. Warmth, sunshine and wildlife. I didn't think much more of it until later. I got home and downloaded the camera photos onto my laptop, whilst flicking through my insect book to find Red Mason Bee (Osmia rufa), a species that I had seen for the first time recently and needed to put a tick next to in the book. I was in the Hymenoptera section (bees, wasps, ants) and as I flicked through, I saw something vaguely familiar – a group that looked like that insect from earlier. But it wasn't the ichneumon wasp section, it was the Nomada bees group.
After a bit of thinking, and a sip of tea, I decided I would give the identification a go. If nothing else, it would show me whether this group is ever 'doable' from photos alone. Immediately I felt a little overwhelmed … the Nomada bees do look pretty similar to each other! Rather than trying to focus on each species at a time, I drew up a shortlist of potential species, casting aside species that I decided against – too much yellow on the abdomen, stripes on the thorax and other such characteristics.
I ended up with a shortlist of 6 potential species, and I turned to a more detailed, and wonderful, book (Falk – Field Guide to Bees of Great Britain and Ireland) to examine each of these species in turn. I slowly read through each description, flicking back to the anatomy page when confronted with technical terms (tergites, labrum, pronatal tubercules), crossing the species off if the description didn't match the photograph in front of me.
In the end, I was left with one, Nomada ferruginata also known as the Yellow-shouldered Nomad Bee. The technical bits in the description matched up:  the pronatal tubercules were yellow (i.e. small yellow circular lump on the thorax), there were yellow spots on the tergites 2 and 5 (i.e. the yellow spots on different sections of the abdomen) and the antennal scapes were black (i.e. the first section of the antennae, closest to the head).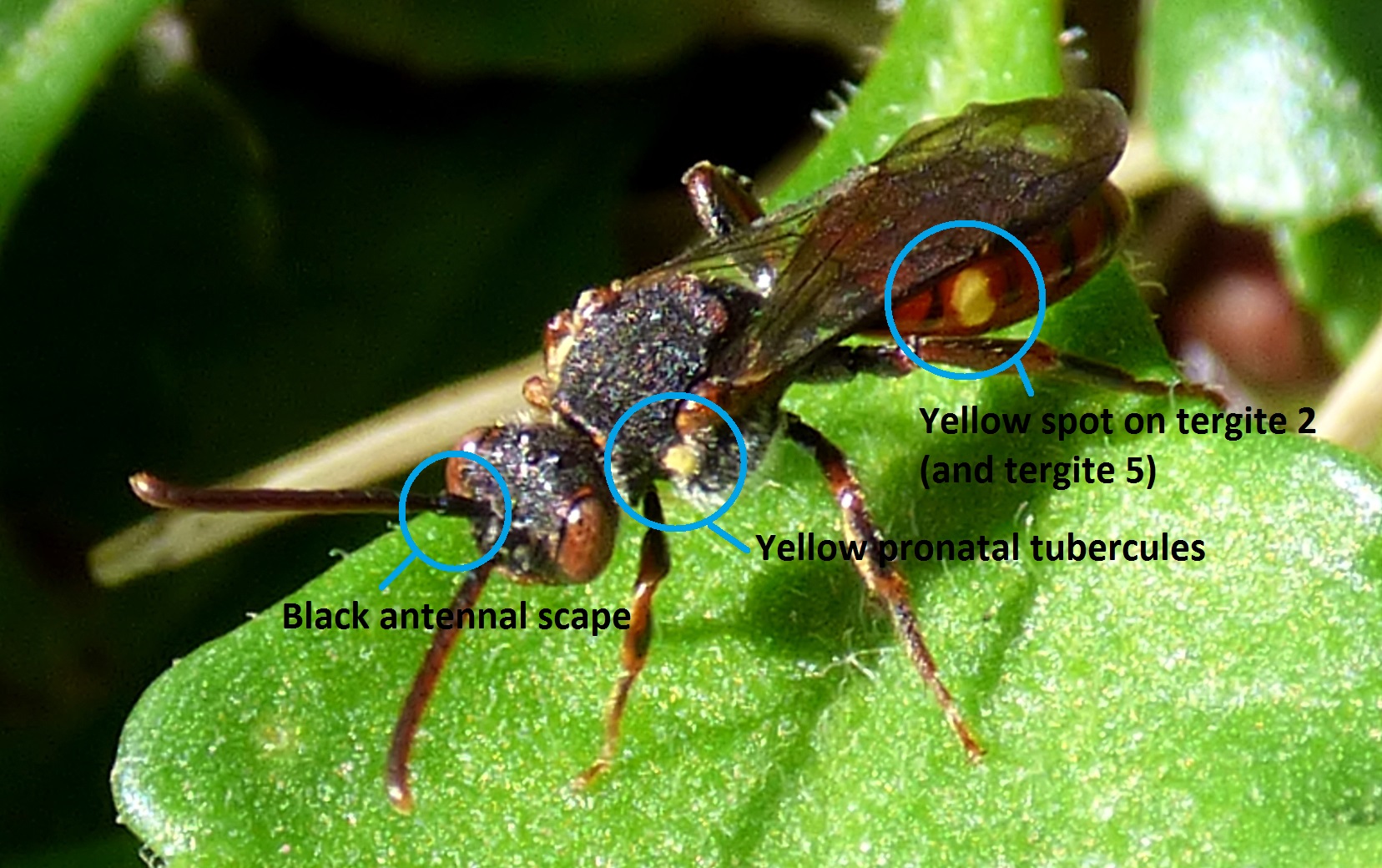 I posted my thoughts on the UK Bees, Wasps and Ants Facebook group and on Twitter, and received confirmation that my ID is correct! Having looked on the NBN gateway, I can see that it is not a new species to Cambridgeshire, but it may be a new species for Cambourne. I shall dig further and find out.
Having identified the bee as N.ferruginata, I did some reading about it. Bees in the Nomada genus are commonly referred to as Nomads or 'homeless bees'. This particular species seems to be quite a rare bee, listed as endangered in the Red Data Book but this probably needs to be revised. It is either being identified correctly more often, or actually experiencing a population increase with more records the last couple of decades (a new species for Worcestershire in 2008). It is a cleptoparasite on another solitary bee species, Andrena praecox, although one website refers a source that suggests that A.varians might also be a host species. A.praecox also seems to be quite a rare species as apparently the females are very dependent on willow catkins.
In conclusion – what I have learnt from the Nomad ID?
That not all wicked-looking Hymenoptera are ichneumon wasps.
That it is worth taking notice of the small, quiet insects that aren't buzzing or fluttering about.
That some Nomada species can be identified from photos only, but only if photos are taken from lots of angles (I could have done with more angles). However, not all of them are as there can be some slight differences that require closer examination.
That a good field guide can make all the difference. Whilst my general insects book (Brock) led me to the correct group, the bee book (Falk) provided the technical expertise to narrow it down to the exact species.
That it is worth pursuing identification and I shouldn't give up on species identification just because it looks difficult! I.e. I should be more confident in myself and my ability to work through the process of identification.
http://meganshersby.com/wp-content/uploads/2016/11/weblogo-300x138.png
0
0
mgshersby
http://meganshersby.com/wp-content/uploads/2016/11/weblogo-300x138.png
mgshersby
2016-04-15 17:30:00
2016-04-15 17:30:00
How A Nomad Helped My Confidence